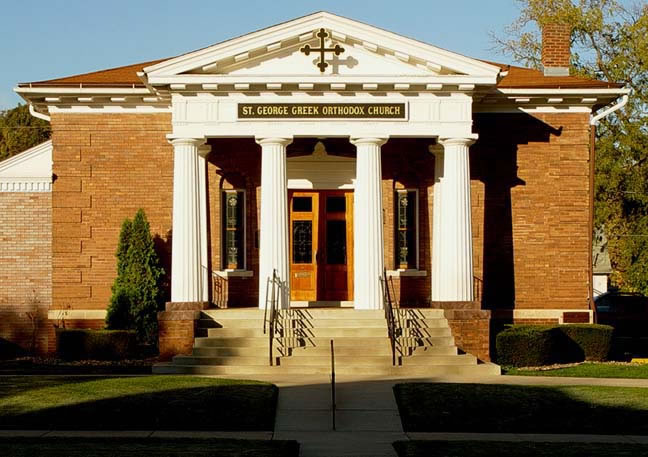 We are happy to have you with us! Through this web site, we are pleased to be able to acquaint you with our community's vibrant life and rich history.
What is the Orthodox Church?
The Orthodox Church is the original Christian Church, the church founded by Christ and described in the pages of the New Testament. Her history can be traced in unbroken continuity all the way back to Christ and the Twelve Apostles.
Our St. George Community welcomes Orthodox Christians of all ethnic and cultural backgrounds as well as newcomers who seek to know more about our Orthodox Faith.
"The Orthodox Church is evangelical, but not Protestant. It is orthodox, but not Jewish. It is catholic, but not Roman. It isn't non-denominational – it is predenominational. It has believed, taught, preserved, defended and died for the Faith of the Apostles since the Day of Pentecost 2000 years ago." -Stephen Robinson
---
OUR MISSION STATEMENT
To grow in union with God as a family on the path of salvation, embracing and sharing our Orthodox Christian Faith.
---
Parish News
Food Pantry Collection is always the third Sunday of each month. Please bring nonperishable food items. You are welcome to bring donations at any time and leave the items in the hall.
Please contact the parish office (515) 277-0780 for all books, tapes, videos, icons and updates. Looking for a Gift Certificate? Check out the library.
---
ALL ARE WELCOME TO COME AND WORSHIP
1110 35th St.
Des Moines, IA 50311-3797
Greek Food Fair Menu and Dates
---
SERVICES SCHEDULE
Sundays: Orthros (Matins): 9:00 AM | Divine Liturgy: 10:00 AM
Please note that weekday services are typically held only on certain dates. Please see our Parish Calendar for more details.
For additional information on services please contact the Church office at (515) 277-0780.