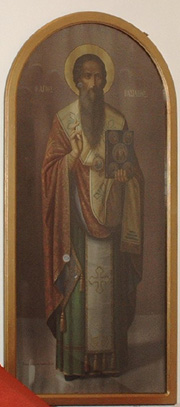 St. Basil the Great
One of the Three Great Hierarchs
Feast Day: January 1st
St. Basil, (mid to late 4th century) archbishop of Caesarea, was educated in Athens with his friend Gregory of Nazianzus (later to be known as St. Gregory the Theologian), and with Gregory and St. John Chrysostom, is revered as one of the Three Great Hierarchs of the Church. Basil and Gregory were later to live together as monks in Cappadocia, and Basil wrote a Rule for monasteries that is still followed in the Orthodox Church today. Basil founded a number of hospitals, orphanages, and residences for the poor, and was named "the Great" by the populace of Caesarea when he gave away much of his inheritance in famine relief and served food to the destitute. Later, he was to be consecrated bishop of Caesarea.
Towards the end of the Arian controversy, Basil wrote many sermons refuting the Arian heresy. Basil was a proponent of the ascetic life, but his Rule for monasteries was flexible enough to provide for a mixture of prayer and action in monastic life.